ENROLLMENT & SCHEDULING
In this course you will learn massage techniques that keep you Grounded, Happy and Connected to others. Bond, Relax, and have fun while honoring the love and kindness that will benefit you, your partner and your practice! Indulge yourself with an amazing introduction to Thai Bodywork. This two-part course teaches you how to perform active and passive isolated stretching combined with deep compressive massage. Thai Bodywork is increasing in demand. Therapeutic Massage and Partnered Stretching Certification is a great introduction to your Thai Bodywork Practitioner Certification.
Wether you are planning your next Retreat at one of our USA locations or traveling ABROAD, you are sure to experience empowering classes and workshops that will take your practice to the NEXT LEVEL! Enjoy plant based lunches, Explore exciting activities and relax with luxurious infused gift items provided by Sacred Goddess Oasis.
MASSAGE THERAPY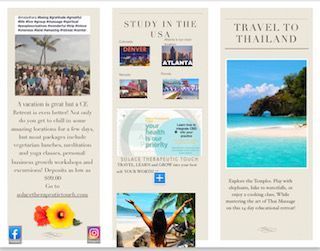 Lets Get YOU Booked! Why Wait?
If purchasing a package, service dates should be booked at time of payment. All appointments must be booked within 30 days of package purchase, payments made are no longer refundable after 30 days. If booking out of service area please contact for pricing.